There is a divide in the consumer/marketer relationship. What is the divide? Simply put, what marketers are doing for consumers is pretty different than what the consumers are expecting from these marketers or brands. We at Brunello, a digital and full service marketing agency, find it important to be aware of, and share what we know about consumer/marketer trends. So without further adieu, here are 5 things that consumers actually want from brands and some suggestions on how to bridge the gap.
Innovation
According to the graph below from CMO Survey, over time the low price of a product has lowered in importance and superior innovation has become top priority for consumers. There is a constant need for products that are better, faster, stronger and more stylish than anything else on the market.  Consumers want the products they use to stand out from the crowd and be the best of the best.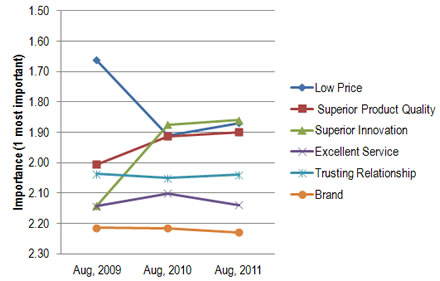 "Free Stuff"
The way marketers are using social media is very different than how consumers are looking to interact via social media. Marketers think that consumers on social media want to be heard. The reality is customers are looking to connect with brands for special offers or discounted rates.  Marketers need to cave in and offer some promotional benefits to their target audience from time to time.
Support
We're not talking customer service here. The actual support customers are seeking is that from fans like themselves. Fans are coming together to share experiences, favorite products or are merely reaching out to one another just on the basis of brand loyalty. They are creating a shared experience within the realm of social networks.
With 40% of consumers wanting brands to be more engaging, and only 1 out of 10 brands say social is a top priority for them, the gap needs to be bridged for both marketing success and happy customers.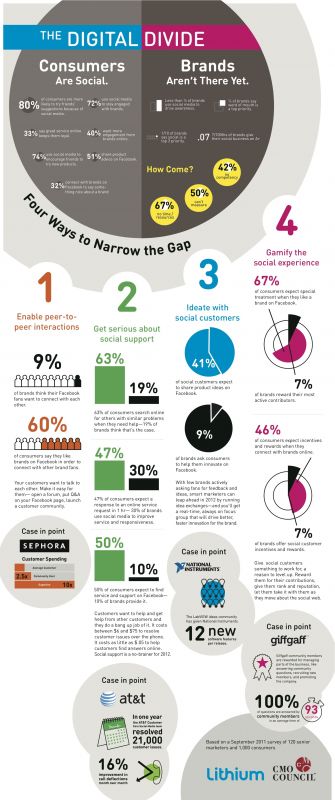 The above infograph from the CMO Council makes it easy to see where the divide between consumers and brands is occurring within social media.
To be Surprised and Delighted
Customers want to enjoy the element of surprise. How can marketers of brands surprise their fans? Gift giving, mailed out offers, or a simple thank you for being a customer are some ways. This ties in with offering promotional content via social media, however you can expand beyond the web here.  It's the little something extras that turn people into believing that you and your brand will continue to go above and beyond. They will feel appreciated for their loyalty.
Relevance and Knowledge of Interests
Consumers want marketers to know key facts about them.  They want the knowledge of their shopping habits, preferences and interests to be known.  If marketers can gather this type of information they can better tailor offerings and advertising strategies to fit their audience. Consumers want the messages they receive to be relevant to these interests. The marketers and brands who demonstrate and acknowledge that they know what their audience prefers, are likely to be rewarded.
---