The holiday season is the perfect time to amp up your brand's social media marketing strategy. Customers are consumed with the holiday spirit and are taking to social networks to talk all about the season. Stories from gift giving and receiving to family traditions can be found on each network. Use these naturally occurring stories and conversations as ammo and inspiration for your holiday campaigns.
Create seasonal engagement across social networks.  Build a seasonal-themed promotional activity into your plans for your brand presence across all the appropriate social networks.
Across all channels you can interact with your fans in these ways:
Share interesting facts about your industry in the scope of the holiday season
Ask users to share their experiences with your brand from past holidays
Provide them with ways to make their holidays memorable
Pinterest is the most visual of all social networks and is the PERFECT platform for social media marketing during the holiday season. It's like Pinterest and the holidays were made for each other. Check out 30 days of Pinspiration to see what's inspiring to others this season and for your own inspiration.

Use of Facebook
Build customized applications on Facebook for holiday themed competitions and sweepstakes
Offer a prize (incentive) for your valued customers and participants of the competition
Offer exclusive content. Offering deals or exclusive content to Facebook fans is an effective promotional strategy around this time of year. Think about the kinds of exclusive content that is valuable to your fans around this time that only you can provide.
Be sure to measure the success of your campaign
Use of Twitter
Create a hashtag (#) that all of your followers can use to come together
Ask your followers what they have planned for the holidays and draw some inspiration for your Facebook campaign
Keep track of your brand mentions and measure how many new followers interact with your brand
Additional Marketing Tactics - What you can do:
Create a unique holiday themed landing page. Associate your brand message with the holiday spirit. You can even reuse the page design with a different holiday theme for the next year.
Design a seasonal branded image. Make your logo and brand imagery festive for your social media profiles. Change your cover image and twitter background for the season.
Here's an example of Target's holiday themed logo and Facebook cover photo: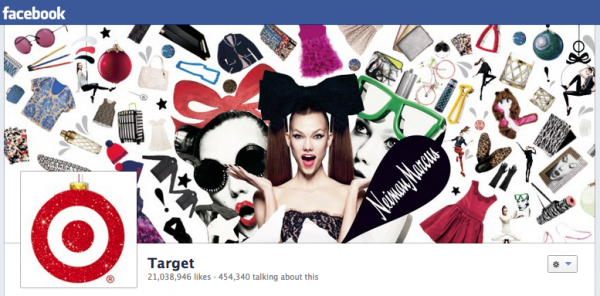 Have some fun with yours!
Have an existing campaign? Put a holiday spin on it. Your existing marketing campaigns took a lot of time and effort, so why not extend their reach by revamping them to a holiday theme? This is a great way to get more milage out of your existing assets.
How to launch your campaign with success:
Get Focused
Plan ahead of the holiday season and plan for AFTER the new year. Focus on how to end the year on a high note and make some business resolutions for 2013.
Get Inspired
Define mediums to be used
Use

StumbleUpon

to randomly discover websites based on your interests. OR head over to the

holiday interest page

for some great ideas on how you can make your promotions more special.
Get Organized
USE social media to help you stay organized. There's

Springpad

and

Evernote

to help you plan and keep your social media calendar of events, posts and pictures organized.
Define goals and start execution
Establish a preseason line to measure success.
Tie all Social Media Efforts together
Include Facebook and Twitter info on all print media
Add Facebook and Twitter links in your press releases
Customers seek personalized experiences and the holiday season is the perfect time to create some magical moments between them and your brand. Take advantage of naturally occuring conversations on social networks and use them to your advantage when planning your social media strategy for the holidays. This will ensure you end the year on a good note for both your business and your loyal customers!
---