As part of your web development and seo strategy, every once in a while it is beneficial to evaluate your company's current website to see if any improvements can be made. You may think it's perfect, but perhaps you may have overlooked some things in itd initial design and planning. In this post we'll cover how you can make your website better in 10 steps; discussing everything from regular maintenance to optimizing your site for SEO.
1. Add new content regularly
This is most often done through regularly posting to your websites blog. Blogs can drive new prospects to your site but only if the content is new and fresh.  Google loves regularly updated blogs and they can boost your SEO. If you can't make the commitment to regularly blog, it's best to dump it. If you plan on starting up your first blog, be sure to read our Tips for Blogging Beginners!
2. Make search engine friendly URLS
Page URLS should include important keywords, have short words separated with hyphens, and be descriptive of the page content.
3. Create meta tags
Meta tags are pieces of information that tell search engines about your site. If you don't develop your own meta tags, the search engine spider will just use the first thing it notices on your page. Since you have the option of creating your own meta tags you should definitely take the time to - it'll better represent your website.
4. Optimize images
Just like content will enhance your SEO, so will the images you use on your website. Just like content, Google indexes images and makes them available in organic search.
Here's what you can do to optimize your images:
Make sure you name the file appropriately. Stick with the theme of your content and pick a related keyword to the content.
Use an ALT Text. This is the name that appears in association with the image and is an additional way for search engines to identify the image.
Use high quality images. They are more professional looking and will have a better chance at gaining inbound links (think Pinterest users linking to images).
5. Create a unique error page
Error pages can occur in several ways, the most common being:
A URL change
The link is misspelt
The page has been deleted
The website is down
The website has been deleted
A typical 404 error looks like this: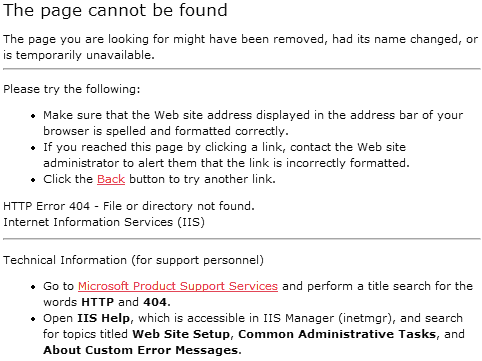 If a user sees a 404 page for any reason, they may likely never return again - unless you have a custom error page. A custom error page allows you to brand it so that it looks exactly like the rest of your website. You can display a more clear message to visitors telling them that the page they are looking for cannot be found.
Be sure to check out some clever 404 pages for inspiration.
6. Add a sitemap
A sitemap is literally a map of your website. It is a tool that allows visitors to easily navigate around your site. It is considered an important aspect of search engine optimization and allows search engines to easily index the pages of your site. A sitemap is a single page that provides a general top-down view of the overall site contents that is organized in a hierarchical order. It allows search engine spiders to easily crawl your site - and the more pages you have indexed by search engines the higher your potential is for getting found by new clients.
7. Focus on seo and keywords
One of your main focuses should be on your search engine optimization strategy. SEO is the process in which you optimize the content on your site through various steps. A successful SEO strategy depends on unique content and the removal of duplicate content. Your site should have multiple pages tailored to specific keywords or phrases.
Here are some quick tips for prioritizing keywords.
8. Create linking opportunities
Link building will drive traffic from other websites to yours. Link building is a way for you to build your sites credibility and should be a part of your SEO strategy. Link building will only work if you have content that is worth linking to. A perfect link back to your website will send valuable traffic to your website and will tell search engines that your site is an authority. Submitting links to your content to social bookmarking sites is a good place to start your link building strategy.
9. Make it mobile-friendly
Recent studies show that approximately 81% of smartphone users access the internet on their mobile devices. This means that you need to make sure that your company website is optimized for mobile. If users cannot easily find the information they are looking for they will go back to the search engine and go to your competitors website.
10. Refresh your about page
The about page is often the second most visited page of any site. It's important that you engage your audience in a personal and friendly way on this page. About Us pages help users discover who's behind the website, the product you offer, who makes up the company etc. Keep it fresh and up to date; add new employee profiles with pictures, include contact info, and explain what your company is currently up to. Take a peek at ours!
With these steps in hand you'll be better able to assess your website and make the necessary changes to make it better. You'll improve your SEO by keeping your website fresh, organized and optimized!
---